"I did not feel any fear because I believed that my demand is just," said a defiant 18-year-old Afghan woman whose ambition to get a university degree has been frustrated by the Taliban's ban on women in higher education.
Angered at the prospect of seeing her future disappear, the woman (whose name we have changed for her safety) staged an extraordinary solo protest in front of Kabul University, invoking words from the Quran.
On Sunday 25 December, Adela stood in front of the entrance holding up a board with a particularly powerful word written on it in Arabic – iqra, or 'read'. Muslims believe this was the first word revealed to the Prophet Muhammad by God.
"God has given us the right to education. We need to be afraid of God, not the Taliban who want to take away our rights," she told the BBC Afghan service.
"I knew that they treat the protesters very badly. They beat them, hit them, use weapons – they used Tasers and water cannon on them. But still I stood in front of them.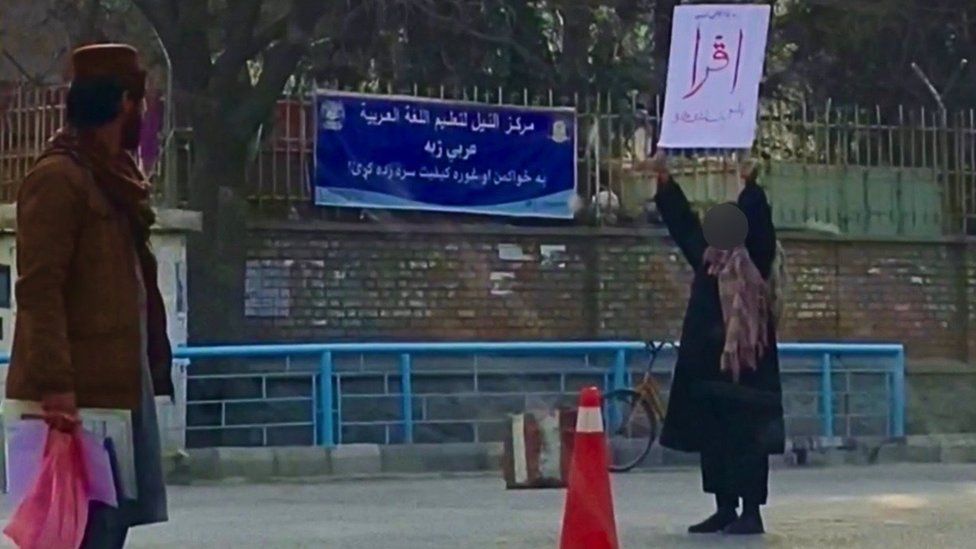 "At first they didn't take me seriously. Later, one of the gunmen asked me to leave."
Initially, Adela refused to go and stood her ground, but the paper board she was holding gradually caught the attention of the armed guards around her.
While clutching the placard, she started engaging a member of the Taliban.
"I asked him, 'Can't you read what I have written?'," she said.
He said nothing, so Adela went further: "Can't you read the word of God?"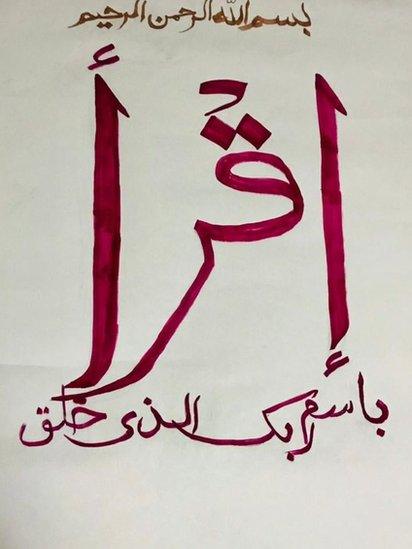 "He became angry and threatened me."
Her placard was taken away and she was forced to leave after about 15 minutes of her lone demonstration.
While she was protesting, her elder sister had been sitting in a taxi taking pictures and recording a video of the protest.
"The taxi driver became very scared of the Taliban. He was pleading with my sister to stop filming. Fearing trouble, he asked her to leave the car," Adela said.
Increasing restrictions on women
Following the hasty withdrawal of the American-led international forces, the Taliban returned to power in Afghanistan in August 2021.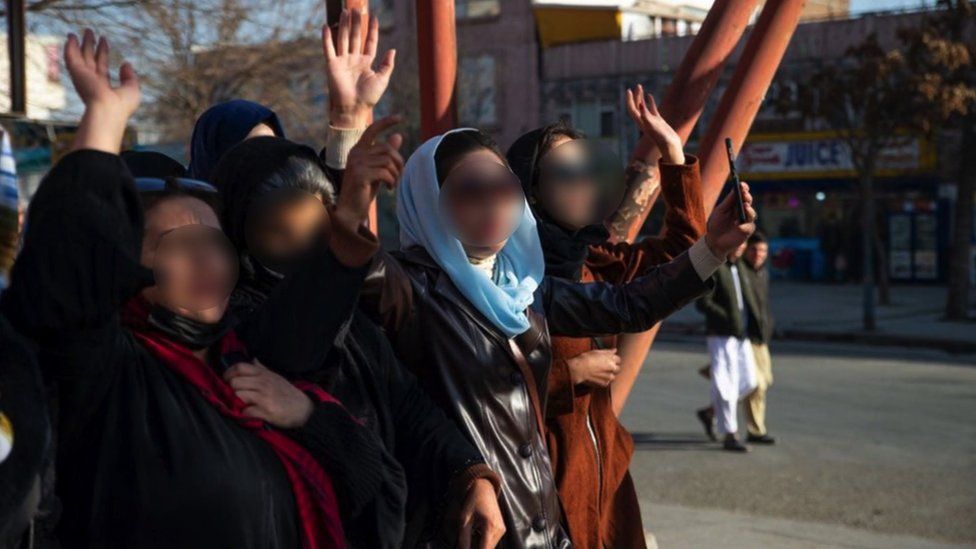 First they banned girls from going to secondary schools. In September this year, they banned girls from studying certain subjects and told them they could only choose universities within their province.
Women, especially university students have been protesting against the ban on education ever since.
Some have used the slogan "women, life, freedom" popularised by the recent demonstrations in Iran.
Officials at Kabul University, where four faculties are currently headed by women, told the BBC that female professors were not allowed to enter the campus now.
Protesting against the Taliban is not easy for women such as Adela. She wants men to show similar courage, but it can come with a cost.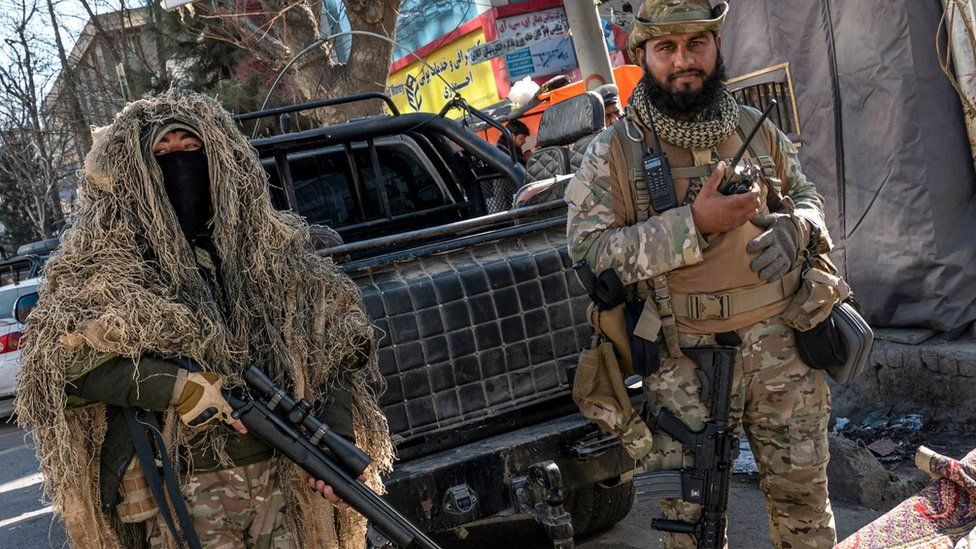 "During my protest, a young man wanted to make a video of me to support me. They hit him hard," she said.
One male professor tore up his educational diplomas on a live TV show to register his protest and sources have told the BBC that more than 50 university teachers have resigned in protest.
One teacher who gave up his job said that he withdrew his resignation after he was beaten up by the Taliban.
But Adela believes that it is crucial that Afghan men join the struggle.
"There are very few men in Afghanistan who stand with us now. In Iran, men stand with their sisters and support women's rights. If we also stand together for the right to education, we will be 100% successful," she said.
There is external pressure on the Taliban as well: the UN Security Council said on Tuesday that the banning of girls and women from education "represents an increasing erosion for the respect of human rights and fundamental freedoms".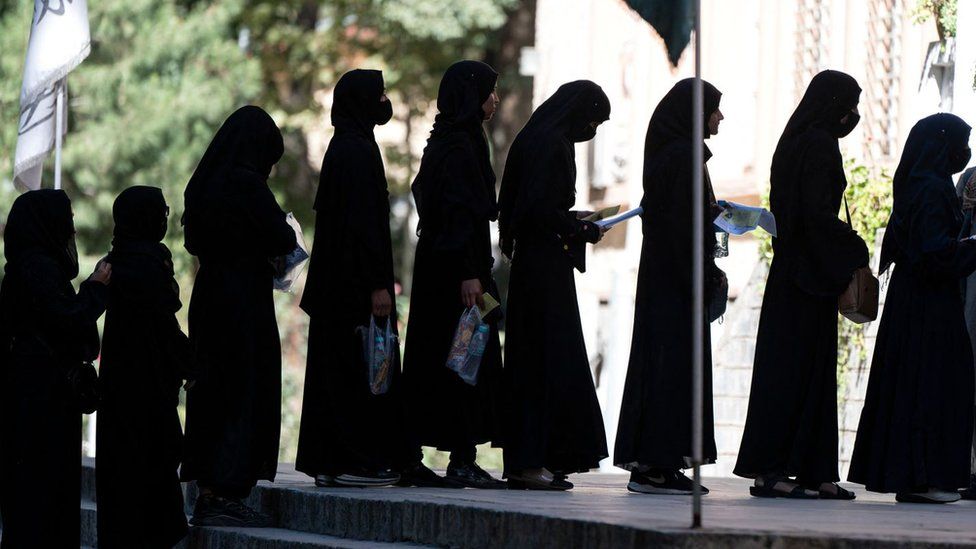 But Taliban leaders seem unfazed. Education minister Nida Mohammad Nadim was quoted in the Guardian as saying the decisions would not be reversed "even if they drop an atomic bomb on us".
Adela is similarly determined.
"If I cannot fly, I will run. If I cannot run, I will take slow steps. If I cannot do that either, I will crawl. But I will not stop my struggle, my resistance," she said.
She says she can count on the support and appreciation of her friends. "You are so brave and we all are with you," they tell her.
Adela also believes that women in Afghanistan today are better placed to win this fight than in previous generations.
"We don't want to go back to the dark ages of 20 years ago. We are braver than the women of that time, because we are more educated and know our rights," she said.
By Noor Gul Shafaq
BBC World Service